About Us
The Genetics Department was established in 1936 with the arrival of Prof. Friedrich Gustav Brieger from Germany, one of the founders of genetics in Brazil.
The Institute of Genetics was created in 1958, annexed to the cytology and genetics course, and was officially incorporated into USP in 1964.
In 1970, with the reform of USP, the genetics course constituted the Department of Genetics, the name of which is maintained to this day.
Currently, the LGN runs undergraduate courses in Agronomic and Forest Engineering, and post graduate masters and doctorate courses in Plant Genetics and Breeding, created in 1964.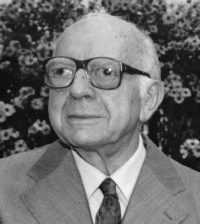 Prof. Friedrich Gustav Brieger 
Administration
José Baldin Pinheiro - Head of Department
Carlos Alberto Labate -  Vice Head
Silvia C. M. S. Zanattta - Department Secretary